How is the American book market developing?
The current sales figures for printed books in the USA continue a trend that has already been observed for several years: since 2012, the total number of print editions sold each year has risen by 23 percent. Extrapolated to 2020, a total of 133 million more books can be expected to be sold than in 2012. In the German-language book market, the figures look different. In the same period, the number of print copies sold fell by 12 percent.
The number of self-publishing titles has also grown impressively in the US. Between 2013 and 2018, the number of ISBNs issued for self-publishing titles increased, according to the Bowker by 263 percent. From 2017 to 2018, the growth alone was 40 percent. During this period, nearly 1.7 million ISBNs were issued for self-publishing titles. It's safe to assume that this trend will continue. Also take a look at the development of the Self-publishing in Germany.
Self-Publishing USA: How many books are published each year through self-publishing?
In the USA, more than 1.7 million self-publishing books are published every year. In the German-speaking book market, the figure is just under 100,000. 513 self-published books are published per 100,000 inhabitants in the USA. In Germany, Austria and Switzerland together, only 98.
In 2020, approximately 720 million printed books will be sold in the USA. In the German-speaking book market, the figure is around 350 million. In terms of population, each person buys 2.2 books per year. In Germany, Austria and Switzerland, the figure is 3.44 books per year per inhabitant.
What kind of marketing do successful self-publishers do?
The development of the American book and self-publishing market can be explained by looking at the marketing strategies of fellow American authors. The basis for this is a survey of Bookbaby among nearly 8,000 self-publishing authors.
Successful self-publishing authors use a bundle of marketing measures. Promotions range from pre-sales promotions to book parties to readings in bookstores. The average American author uses 3.5 different marketing efforts to drive sales of their book. The most successful among them - those who were able to earn more than $5,000 from their latest book project - even use 5.3 measures. Authors with earnings of less than $100 came in at only 2.2 measures. The more they invest in marketing their book, the greater their sales success. Self-publishers most often rely on reviews by bloggers or other literary critics.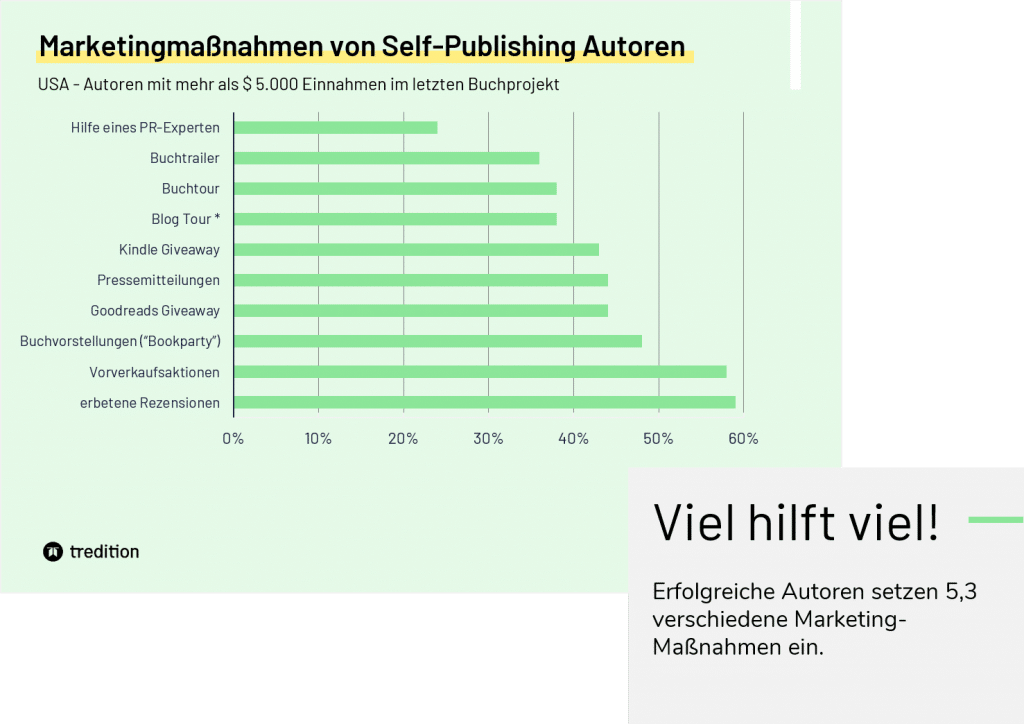 Reviews as a popular marketing tool
At the top of the list of sales-promoting advertising measures are reviews. The classic star rating plays an important role above all in sales via online shops. Readers who buy their books in brick-and-mortar bookstores also like to take a look at reviews on the Internet beforehand. In the survey of self-publishing authors, 51 percent say they have actively courted reviewers. 53 percent believe that reviews have a (strong) influence on sales.
How do you generate reviews in self-publishing?
To get reviews for your book, you can offer (electronic) advance copies to bloggers or solicit beta readers in private or via social media. Ask the selected test readers for their honest feedback. Book bloggers can have a crucial impact on sales.
Book bloggers or reviews from the private sector?
Thirty-two percent of self-publishing authors surveyed who earned less than $100 said they contacted book bloggers. About two-thirds asked friends and family for reviews. Among high-earning authors, 61 percent sought support from bloggers, while 41 percent got reviews from their personal circle.
If you want to succeed, you have to venture out of your comfort zone and reach out to professional reviewers. Contacts with bloggers who are taken seriously in the industry can help to get valuable reviews.
Social media as a useful marketing tool
Social media presence is important for a successful author. This is the opinion of 81 percent of the authors surveyed in the study. A total of 68 percent of those who have earned more than $5,000 from their books in the past twelve months see an author or book page on Facebook as useful. Among authors who have earned less than $100, the figure is 56 percent.
What kind of marketing do German self-publishers use?
Collaboration with book bloggers is also an important marketing tool in Germany. This is the view of 81 percent of self-publishers, according to the European Self-Publishing Survey 2019. However, only 32 percent of authors use this method. Here, similar to the USA, it can be seen that authors in particular cooperate with bloggers, who generate higher income with their book sales. German-speaking authors are still rather reserved in their marketing measures. Readings have a similar status as in the USA. Press work and book trailers are also used by only a few authors.
Good marketing is important - but a well-written and professionally designed book is even more important. First, the potential reader sees the cover, then the first page convince. According to the European Self-Publishing Survey, only about half of the authors in Germany use an Service provider. The trend is upwards: in 2016, it was only 36 percent. When it comes to authors who use a service, the distribution looks similar to that in the USA. At the top of the list is cover design, followed by editing and proofreading, as well as the book's typesetting.
Conclusion
Only a professionally produced book has a chance of success - a good marketing mix can support this. So far, there are few figures on which measures can be used to increase sales. Nevertheless, the connection between successful self-publishing marketing in the USA and the positive sales there can be established. This can also be applied to the German-language book market. Above all, reviews on blogs, serious reviews, press releases and book trailers seem to contribute to success in the USA. Here, German self-publishing authors are even more reserved. You can start with such measures to further boost your sales.